Installing Manuf®actured
Go behind the scenes during the installation of Manuf®actured: The Conspicuous Transformation of Everyday Objects. Artists Jason Rogenes, Laura Splan and Harriete Estel Berman talk about their installation process and the work on view in the exhibition. VIDEOGRAPHER/EDITOR: JOHN BROCKWAY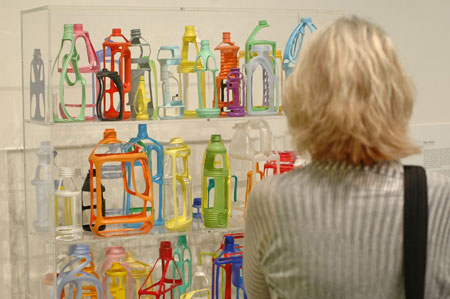 Manuf®actured Walkthrough
Mara Holt Skov, co-curator of Manuf®actured: The Conspicuous Transformation of Everyday Objects, leads an exhibition walkthrough. Also includes commentary by Museum of Contemporary Craft curator Namita Gupta Wiggers and participating artists Harriete Estel Berman and Laura Splan. Recorded August 27, 2008.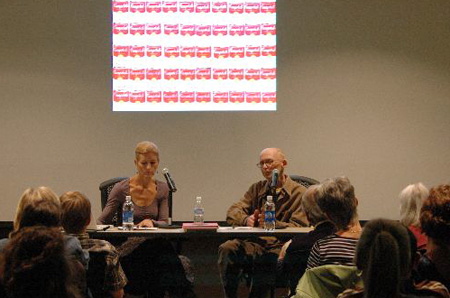 CraftPerspectives Lecture:
Steven Skov Holt and Mara Holt Skov
Visiting curators Steven Skov Holt and Mara Holt Skov present Manuf®actured: From Readymade to Alreadymade, a lecture given in conjunction with the exhibition on view at the Museum of Contemporary Craft. The curators give a behind-the-scenes account of how they developed the exhibition, how they collaborated with the artists and how their work over the last three years has materialized into the exhibition currently on view. The lecture took place at University of Oregon's White Stag Building on September 18, 2008.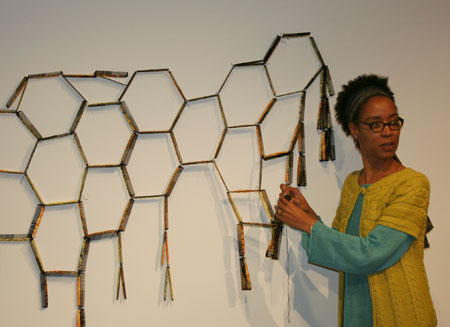 Interview with Sonya Clark
Namita Gupta Wiggers, curator at Museum of Contemporary Craft, talks with Manuf®actured artist Sonya Clark about her recent series of work using combs, hairdressing as a primordial fiber art, and the social and historical significance of the black plastic fine toothed comb. Includes an informal Q & A with museum visitors. This interview took place at the Museum of Contemporary Craft on October 12, 2008.