Boris Bally

Jerry Bleem

Mitra Fabian

Dominic Wilcox
Vessels

Over the past several decades, the vessel has increasingly functioned as a conceptual vehicle through which artists, craftspeople and designers may create work to be viewer, not necessarily to be used. With the radical appropriation of consumer goods as raw material for art and object-making, the vessel functions within the vocabulary of forms explored by artists who manuf®acture.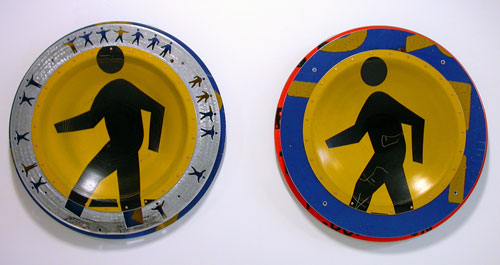 Boris Bally

FORM FOLLOWS REPETITION
Born in Chicago, Illinois
Works in Providence, Rhode Island
Boris Bally's "humanufactured" highway-inspired vessels were first brought into the world via industrial mass production and then transformed by Bally through hand-based idea-driven manipulation. In these projects the original form and function is forever changed and a new kind of preciousness is revealed. It is the dismembering and fragmenting – both physical and contextual – that is key to their creation.
WORKS IN THE EXHIBITION
Boris Bally, Man in Stereo: The Muybridge Platters 2, 2007;
Recycled traffic signs, copper, steel bolt; Collection of the artist

Jerry Bleem

FORM FOLLOWS ACCUMULATION
Born in Red Bud, Illinois
Works in Phoenix, Arizona
Jerry Bleem's staple-saturated vessels assume obsessive (to the point of fetishistic) significance. Playful excess is mined for its cultural symbolism and aesthetic import while material abundance is transformed into wryly-purposeful narratives that tell a deeper truth about each material's essential qualities.
WORKS IN THE EXHIBITION
Jerry Bleem, Monument (after Barlach), 2001; Found corrugated
plastic, staples; Courtesy of the artist and Packer Schopf Gallery
Jerry Bleem, Architectural Rendering (Vernacular), 2000;
Blueprints, plastic, wax, staples, acrylic medium;
Courtesy of the artist and Packer Schopf Gallery

Mitra Fabian

FORM FOLLOWS ADHESION
Born in Tehran, Iran
Works in San Jose, California
Mitra Fabian layers strip after strip of Scotch tape to form the basket-weave-patterned skin of lighter-than-air translucent vessels. Making is integral to the practice of craft and in Fabian's hands the prosaic becomes expressly poetic through the labor-intensive process of making and re-making.
WORKS IN THE EXHIBITION
Mitra Fabian, Selections from Proliferation Series, 2005–07
Tape, mixed media; Collection of the artist

Dominic Wilcox

FORM FOLLOWS INTEGRATION
Born in Sunderland, United Kingdom
Works in London, United Kingdom
In Dominic Wilcox's War Bowls, individual products are blended into integrated meta-objects. Each War Bowl is made from legions of plastic soldiers melted together to form a crenellated and perforated vessel. An ironic take on the senselessness of war, they highlight how scandalously mutable the body (and the vessel) can be when subjected to pressure.
WORKS IN THE EXHIBITION
Dominic Wilcox, War Bowl – Battle of Waterloo, 2002; Melted
plastic army soldiers; Courtesy of Thorsten Van Elten Ltd., London
Dominic Wilcox, War Bowl – English Civil War, 2002; Melted
plastic army soldiers; Courtesy of Thorsten Van Elten Ltd., London
Dominic Wilcox, War Bowl – Zulu War, 2002; Melted
plastic army soldiers; Courtesy of Thorsten Van Elten Ltd., London